Giga, PoE, Switch
PLANET 8-Port PoE Gigabit Ethernet Switch
Login to see prices ---
Model: GSD804P
PLANET GSD–804P is equipped with eight 10/100/1000BASE-T ports, four of which are 802.3at PoE+ copper interfaces.
Model: GSD-804P
Centralized Power Distribution for Gigabit Ethernet Networking
To fulfill the demand of sufficient PoE power for network applications with Gigabit speed transmission, PLANET has come out with a new member in the 802.3af PoE Gigabit Ethernet Switch family — GSD-804P, the 8-Port 10/100/1000Mbps with 4-Port 802.3af Power over Ethernet Switch which features high performance Gigabit IEEE 802.3af PoE (Up to 15.4 watts) and totally 55-watt PoE budget on half of the 10/100/1000Mbps TP ports of GSD-804P. The four 802.3af PoE ports provide PoE power injector function which is able to drive 4 IEEE 802.3af compliant powered devices. The GSD-804P also provides a simple, cost-effective and non-blocking wire-speed performance with 10-inch metal shape for desktop deployment in compact housing, SOHO office or department network application.
Ideal, High-performance Integration Solution for Small Secure IP Surveillance Infrastructure
PLANET GSD-804P is equipped with eight 10/100/1000BASE-T ports, four of which are 802.3at PoE+ copper interfaces.  With a total PoE power budget of up to 60 watts and non-blocking data switching performance, the GSD-804P fulfills the demand of sufficient PoE power for HD IP surveillance. It comes with a 9-inch desktop-sized metal housing and reliable PoE power solution suitable for SOHOs, small businesses and system integrators for deploying Power over Ethernet networks.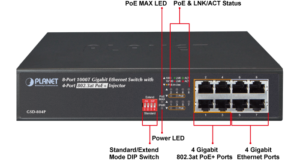 Extension of Ethernet Data Transmission Distance
The built-in solid DIP switch provides "Standard" and "Extend" operation modes. The GSD-804P operates as a normal IEEE 802.3af/at PoE Switch in the "Standard" operation mode.

In the "Extend" operation mode, the GSD-804P operates on a per-port basis at 10Mbps duplex operation but can support 25-watt PoE power output over a distance of up to 250 meters overcoming the 100m limit on Ethernet UTP cable. With this brand-new feature, the GSD-804P provides an additional solution for 802.3af/at PoE distance extension, thus saving the cost of Ethernet cable installation.

Environment-friendly, Fanless Design for Silent Operation
The GSD-804P comes with a desktop-sized, compact metal housing, making the placement of the unit convenient. It features a ventilated construction in which a cooling fan is not necessary, thereby making its operation noiseless. Moreover, the GSD-804P is able to operate reliably and stably in any environment without affecting its performance. The deployment of PoE PDs with constant power feeding can be easily and quickly done.
Easy Cable Connection
With data switching and power over Ethernet integrated into one unit, the GSD-804P reduces cabling requirements and eliminates the need for dedicated electrical outlets on the wall, ceiling or any unreachable place. A wire that carries both data and power can lower the installation costs, simplify the installation effort and eliminate the need for electricians or extension cords. With 4 PoE interfaces, the GSD-804P is ideal for small businesses and workgroups making the deployment of the PoE facility including wireless access points, IP-based surveillance camera and IP phones in any places easier, more efficient and more cost-effective.